Quality, Environmental & Information Security Policy
Quantion is a Digital Consulting and Systems Integration company, oriented to the digital transformation of businesses that follows a Digital Project Factory approach, that is, a "Digital Factory" that fully addresses digital transformation projects.
Quantion has implemented a Quality, Environment and Information Security Management System according to ISO 9001: 2015, ISO 14001: 2015 and ISO 27001: 2014 standards, which it undertakes to maintain and improve by acting with the following guidelines:
1. Compliance with the legislation in the development of its activities, as well as other requirements signed with customers.
2. Selection of personnel, suppliers and subcontractors based on criteria of Quality, Environment and Information Security, and the requirements of each client and project.
3. Customer satisfaction commitment.
4. Maintaining the necessary communication channels with clients to detect their current and future needs, in order to ensure their satisfaction with respect to the fulfillment of their requirements and expectations.
5. Compliance with the requirements and continuous improvement of the Information Quality, Environment and Security Management System, through the implementation of systems for measuring and monitoring the services provided to our clients, as well as the objectives of the system.
6. Detection and periodic evaluation of risks and opportunities, especially those related to interested parties.
7. The training and awareness of all those involved in our process, in order to improve it and promote participatory management in the Quality, Environment and Information Security Management System.
8. Information commitment to interested parties.
9. The protection of the environment, prevention of pollution, sustainable use of resources and any other environmental commitment in which the company can contribute and in line with the legislation in force at all times.
10. Management undertakes to provide the necessary resources to achieve the objectives of the system, its effectiveness, its efficiency and continuous improvement.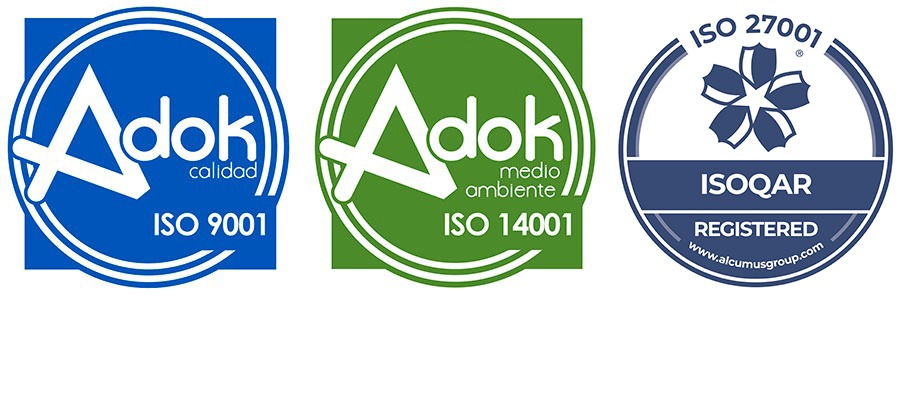 Through obtaining ISO certifications, we ratify our commitment to quality, the environment and information security. Projecting our leadership as a company, linked to our principles of responsibility, quality, safety and a desire for continuous improvement in order to offer our clients the best solutions and innovative services.
20/05/2021
Signed,
The Management